Course details
"150 minutes with all you can drink" Samgyeopsal pan full course 5000 yen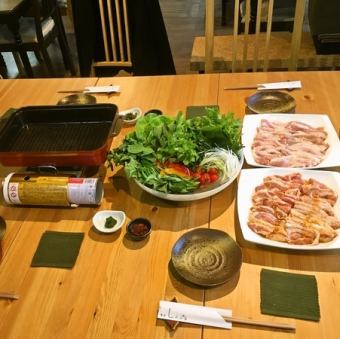 All-you-can-drink available
Reservation deadline

Coming to a store up to 12 pm two days before the desired date
Available days for reservation

Monday - Sunday - Public holidays - Holidays
150 minutes on a very popular course where you can enjoy soft and juicy meat soaked in special sauce, you can enjoy plentiful sake and cuisine with all you can drink!
Course menu
· Three appetizers served (Komatsuna fried, eggplant fried crushed, marinated salad etc.)
· Samgyeopsal iron pan
Pork belly meat matching Samgyeopsal is being soaked in "Salt Dare" and "Soy Sauce Sauce".
Please enjoy rolling with various vegetables of the season
Vegetable example: salad cabbage, sanchu, green leaf, furyl lettuce, wasabi, mustard green, perilla leaf, leaf, rucola, serpatico, watercress, basil,
Paprika, Princess Mitsuba, Salad celery, Kai Ware, Asparagus, Rape blossom, Okra, Blue chilli, etc. (More than 8 kinds available! The number of vegetables will increase depending on the number of people!)
· One item (Sanjin's wasabi-yaki etc) or meat substitute
· Bibin noodles or mochi wheat noodles at the end
· Dessert (ice cream not much in other shops)
All-you-can-drink menu
·beer
· Premium Malts / ALL FREE
·Highball
· Horn ball / Jim beam / Wild turkey
· Sake Haisawa
· Plain / lemon / lime / tomato / apple cider vinegar
·wine
· Glass wine A (red · white)
· Plum wine ※ lock, soda division OK
· Wakayama Plum wine
Shochu
· [Tato] Black Kirishima / Ikka / [wheat] grain of wheat
·Sake
· Swordsman / Shin Tanba
·Soft drink
· Oolong tea / Jasmine tea / pineapple / cola / ginger ale / hot coffee / ice coffee / iced tea
2018/01/12 update