Course details
Samgyeopsal Pot Short Course 2500 yen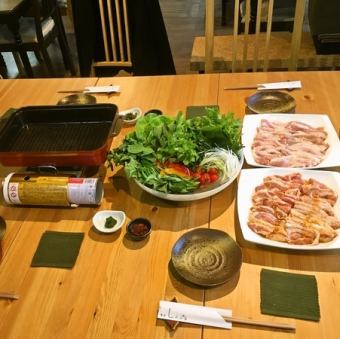 Reservation deadline

Coming to a store up to 12 pm two days before the desired date
Available days for reservation

Monday - Sunday - Public holidays - Holidays
A reasonable short course appears in response to the customer's request that "I want to eat the main full!" "Side menus are few!" Popular course where you can enjoy soft and juicy meat soaked in special sauce!
Course menu
· Appetizer 1 kind
· Samgyeopsal iron pan
Pork belly meat matching Samgyeopsal is being soaked in "Salt Dare" and "Soy Sauce Sauce".
Please enjoy rolling with various vegetables of the season
Vegetable example: salad cabbage, sanchu, green leaf, furyl lettuce, wasabi, mustard green, perilla leaf, leaf, rucola, serpatico, watercress, basil,
Paprika, Princess Mitsuba, Salad celery, Kai Ware, Asparagus, Rape blossom, Okra, Blue chilli, etc. (More than 8 kinds available! The number of vegetables will increase depending on the number of people!)
· One item (Sanjin's wasabi-yaki etc) or meat substitute
· Deaf (bibin noodles or omogi noodles) or dessert (not much for other stores ice cream)
2018/01/12 update